U.S. Citizenship Preparation Program
Preparing refugee students; protecting freedoms
Catholic Charities of Northeast Kansas' free Citizenship Preparation program includes course work that is focused on the English language, American history and civics knowledge that is needed to pass the United States' USCIS naturalization interview and exam. We provide classroom instruction to any eligible immigrants and refugees who want to become United States citizens.
Classes consist of 10-week long sessions that are held four times per year in January, April, July and October. Classes are offered Monday through Thursday, with flexible options to attend in the morning, afternoon or evening. Program participants must apply for the course in person at our Wyandotte County, Kansas, Family Support Center (WyCo FSC) .
Catholic Charities staff and volunteers lead the classes, which are held at the WyCo FSC. Program volunteers also provide tutoring to students who need extra assistance with their studies.
Once a demonstrated competence of the material is exhibited, students are referred to La Luz Immigration Clinic. Clinic staff assist students in completing the N-400 application which is sent to the USCIS for processing. The N-400 application fee and USCIS exam is paid for by the student, but clinic staff can identify when students are eligible for reduced application fees.
A student must be a Lawful Permanent Resident of the U.S. for at least five years, or three years if married to a U.S. citizen
Must reside in either Kansas or Missouri
Be at least 18 years of age
Be able to read, write and speak basic English (classes are taught in English; students who are not ready for English classroom instruction may contact the Catholic Charities English Language Learning program to identify available English learning classes)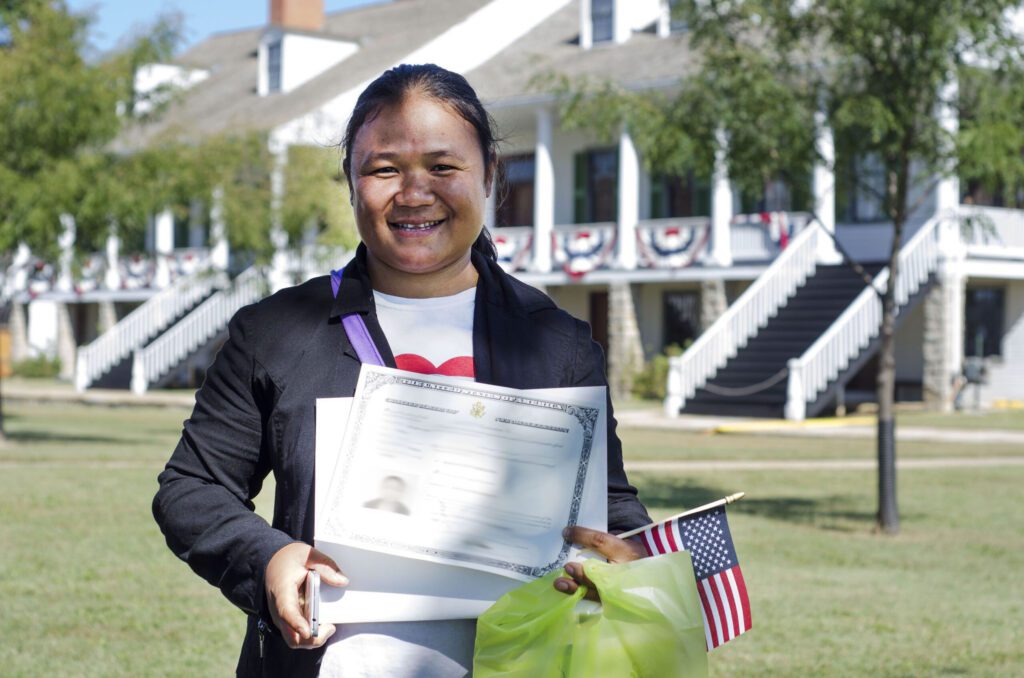 Benefits to Becoming a Naturalized U.S. Citizen
Becoming a U.S. citizen protects both you and your children from deportation
Minor children are granted U.S. citizenship
You have a greater chance for family reunification
You are eligible to apply for government job
You are granted the freedom to travel
You are eligible to vote in government elections
We also assist undocumented immigrants who have no legal options by making them aware of their legal rights. This information empowers them to avoid predatory legal services that offer fraudulent permits for large amounts of money.
Are you interested in becoming a U.S. citizen? If so, you must adhere to these qualifications below.
You must demonstrate continuous residence in the U.S. for at least five years immediately before you file an application form to the USCIS.

You must prove that you have been physically present in the U.S. for at least 30 months out of the five years immediately before the date your application is filed.

You must prove you are of good moral character.

You must demonstrate an attachment to the principles and ideals of the U.S. Constitution.

You must demonstrate an understanding of the fundamentals of the history, principles and form of government of the U.S.

You must take an Oath of Allegiance to the United States.
Please note: The USCIS interview/test can be modified for certain individuals because of their age and time as a Legal Permanent Resident (LPR) in the U.S.
Use the form below to contact the Refugee Department.
Please submit other questions to our general Contact Catholic Charities page.