Catholic Charities of Northeast Kansas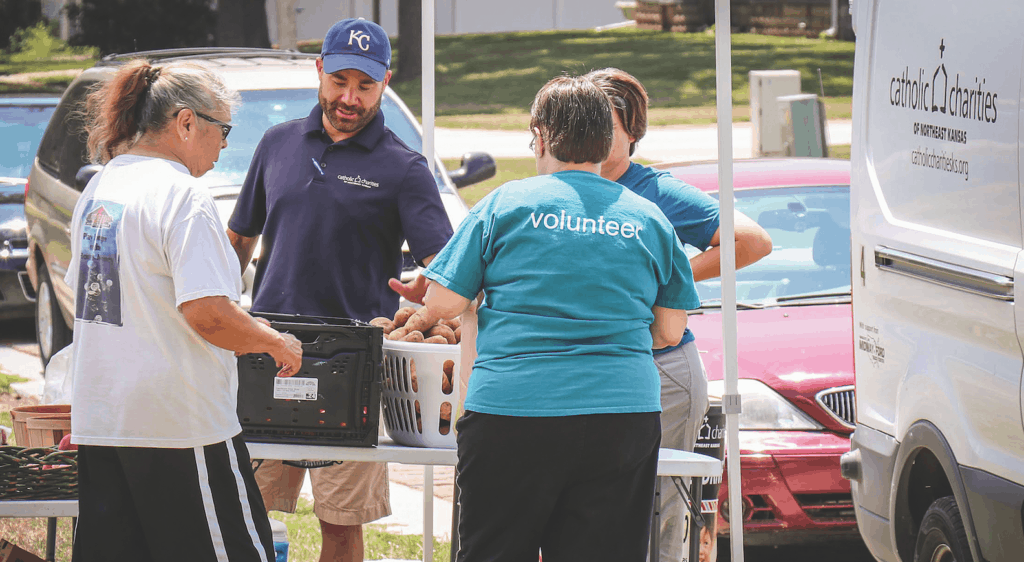 Did you know that the Gospel can be summed up in five words? Mother Teresa described it in these five words:
"You did it to me" – Matthew 25:40
As Christians we are invited to live out the Gospel daily. The response looks differently based on our state of life but the call is clear – to respond with love and compassion. Catholic Charities of Northeast Kansas responds by encountering Jesus in our neighbors in need who are served by our 30+ programs. We could not live out our mission without the dedicated support of our generous community and volunteers.
Serve with Catholic Charities to help those in need and transform our community!
Living the Works of Mercy
A resource for Archdiocesan and public schools, we can provide help in introducing and incorporating Catholic Social Teaching into curriculum.
Families Growing and Serving Together
We welcome families to serve our neighbors in need through age-appropriate activities and education.
Fighting Poverty in Northeast Kansas
Information about need and impact
Answer the call to love by making a difference in our community.
Outreach, Advocacy and Education
We collaborate with other churches, businesses and community organizations to build up a strong system of support for those we serve.
Living the Works of Mercy
We partner and collaborate with churches in ways that support the mission of both Catholic Charities and the individual church.
Get involved with Catholic Charities
With help from volunteers and donors, our 30+ programs become even more effective. See how you can make an impact!
Help feed our neighbors in need
Our eight food pantries are continually in need of food. Help us fight food insecurity by hosting a food drive.
See Catholic Charities in action
Engage with our leadership and travel to our local mission operations to learn about our programs.
Businesses & Organizations
Neighbors helping neighbors
Volunteer Opportunities for Your Business or Organization.
Catholic Charities of Northeast Kansas is answering the call to animate the Gospel by putting love into action. We are grateful for your generous support of time, talent and treasure.