Workforce Development Programs
Supporting education and employment goals
Supporting the dignity of workers
Catholic Charities of Northeast Kansas values education and believes that it adds to a person's ability to earn a sustainable income and maintain future financial stability. Our Workforce Program guides and supports individuals who are in or out of school and are seeking education to improve their employability or desire to earn a higher, livable working wage. 
Our services are available to refugees, immigrants, unemployed, and under-employed individuals who want to receive industry-recognized credentials, earn gainful employment and become more self-sufficient members of society. This program can be life-changing to those who take advantage.
  FAST FACTS FROM 2023
165

individuals boosted their job skills and advanced their education through our St. Rita program, including 78 graduates who attained their academic or certification credentials.

$21.08/hr

the average full-time wage of participants who engage in the St. Rita skills building program

95

unemployed or underemployed individuals seeking greater economic sustainability participated in the General Employment Program
The months I spent with the St. Rita Program taught me so much more than being a technician. [...] My graduation that year was a victory for my whole family."
Lavaunte had always been passionate about auto technology. Unfortunately, he lacked the proper training, so his passion could not translate into income. Lavaunte needed more education, but as the youngest of five, no one in his family had ever had the option of attending college — until now.
The future looks much brighter for Lavaunte, who recently graduated with academic honors in Auto Tech. He is now gainfully employed by a company that is supportive of him obtaining his Diesel Technician certification.
Workforce programs are offered as part of a continuum of services intended to help those facing educational or employment barriers so that they can find employment that respects their dignity and supports their families. Participants are also connected with the additional support of our Family Support Centers.
Supporting adult students for a brighter future
An educational support program built to remove barriers for those who are unemployed or underemployed.
Kansas refugee youth mentorship
Promoting social and civic engagement for educational and vocational advancement in refugee youth.
Removing barriers to employment for success in the workforce
Education and employment support services for individuals in need
Are you an employer in the Kansas City area?
We would love to have you partner with us!
A partnership with our Workforce program is mutually beneficial. Benefits include:
Increased workplace diversity

Tapping into a previously unexplored talent pool

Work Opportunity Tax Credit (WOTC)

Pre-screened referrals

Assistance with onboarding processes

Continued support after initial placement

Access to interpretative services
It takes a village to help ensure our program participants are set up for lasting success in both the workplace and at home. We are proud to partner with an expansive list of institutions across Kansas.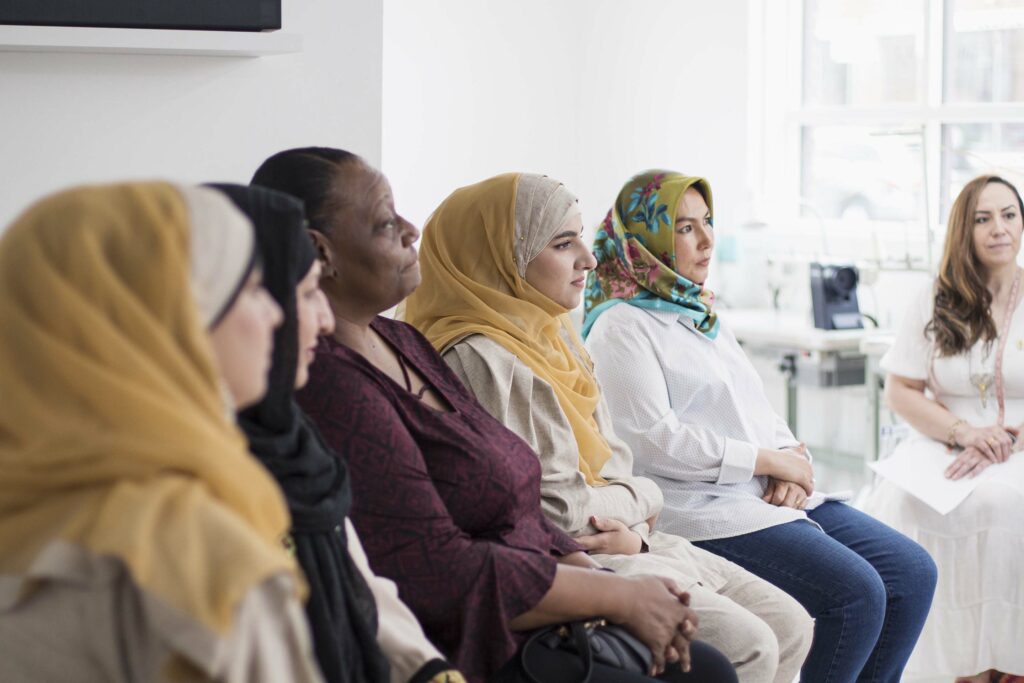 Get Involved with Workforce
The Workforce program has many opportunities to get involved or donate! Individuals who come to us for help are often struggling financially and/or emotionally. With your help, we can ease their burden. We accept gift card donations for program participants, so that they can purchase clothing for interviews or required work uniforms. Additionally, a financial gift can also help a struggling student pay for bills they are unable to afford on a students' salary.
Zipporah's St. Rita Program Success
Click "play" to watch video.
When Lydia first entered the General Employment Services program, she was unemployed and struggling to afford her mortgage. Due to a disability, her physical mobility was limited, so job opportunities available to her were difficult to find. Even through her struggles, she had an optimistic outlook and was determined to do whatever she needed to gain employment and get back on her feet.
The General Employment program helped Lydia construct a professional resume and build a hiring profile on Indeed. In addition to career assistance, a case manager worked with Lydia to create a monthly budget. This led her to join one of our Financial Literacy classes.
Today, Lydia has reached 90 days employment at a local consignment shop where she is known as "Happy" because she always has a positive outlook and greets store customers with a smile. She plans on continuing her employment there until she is more settled.
Hope Stories and Blog Posts About Our Workforce Programs
Get Involved
Partner with Catholic Charities of Northeast Kansas and help individuals find employment that respects their dignity and supports their families. Our Workforce Program offers Employment
Read More »
Featured In:
Catholic Charities of Northeast Kansas has been resettling refugees since 1975, but one of the newer ways we have engaged with displaced refugee youth is
Read More »
Emergency Assistance
The best way to describe my experience with Catholic Charities is Ephesians 3:20, "Now unto Him that is able to do exceeding abundantly above all
Read More »