Catholic Charities of Northeast Kansas
Our service area covers 21 counties in northeast Kansas:
Anderson
Atchison
Brown
Coffey
Doniphan
Douglas
Franklin
Jackson
Jefferson
Johnson
Leavenworth
Linn
Lyon
Marshall
Miami
Nemaha
Osage
Phillips
Shawnee
Wabaunsee
Wyandotte
Our locations include 7 Family Support Centers (FSCs), Hope Distribution Center, administrative offices and more. Our rural locations are served by the Resource Bus. We are able to serve anyone who lives in our service area at any of our FSC locations.
Please see the list below to view our locations and to find your local Family Support Center.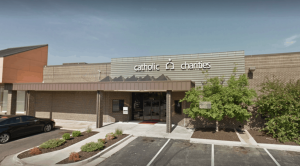 Please note: The Administrative Office is separate from the Overland Park Family Support Center.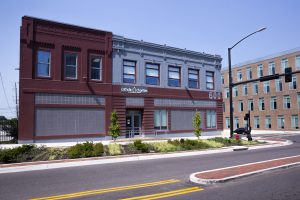 Housed in the same building as the WyCo (KCK) Family Support Center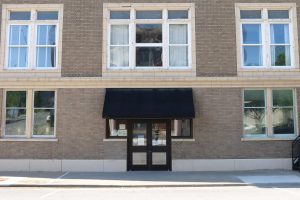 Atchison Family Support Center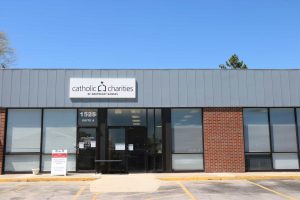 Lawrence Family Support Center
Leavenworth Family Support Center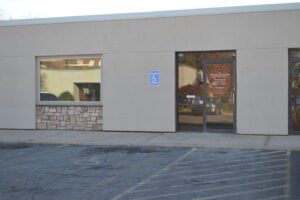 Olathe Family Support Center
Overland Park Family Support Center
Topeka Family Support Center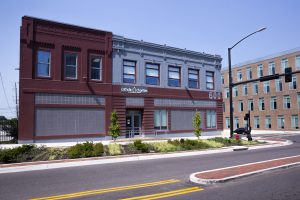 WyCo (KCK) Family Support Center
Our Family Support Centers feature a food pantry and are staffed by case managers who assess, plan and advocate for services available through Catholic Charities programs.
These programs include housing assistance, pregnancy counseling, financial education and employment assistance. They also make referrals to community partners. Scheduling an appointment with your local Family Support Center is the first step in getting the help you need.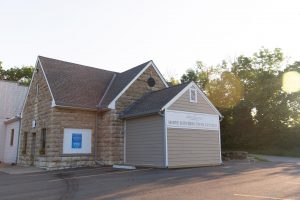 The Hope Distribution Center (HDC) also offers a Food Pantry.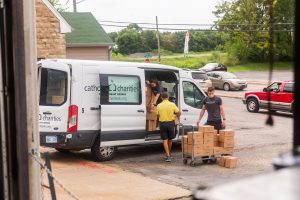 The Resource Bus serves our rural counties. It is housed out of Hope Distribution Center.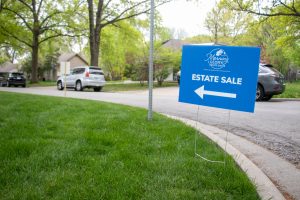 Morning Glory Estate Sales
Morning Glory Estate Sales' location depends on the estate, but is managed through our administrative office.
Shalom House Men's Transitional Living Program offers support and resources to men experiencing homelessness.
New Roots, a collaboration of Catholic Charities of Northeast Kansas and Cultivate KC, operates a training farm at Juniper Gardens.
Our Hope Distribution Center, which features a food pantry, serves as our warehouse for the incoming donated food items. These items are sorted and distributed to all of our food pantry locations.
Our Resource Bus, which serves our rural communities, is equipped with food and basic essentials. A case manager is also on board to provide client assistance.
Glenwood Antique Mall, 9030 Metcalf Ave, Overland Park, KS—Booths Z97 and Z98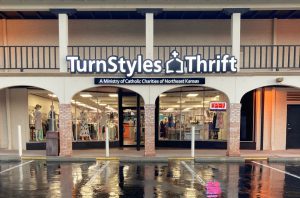 5304 Martway St, Mission, KS 66205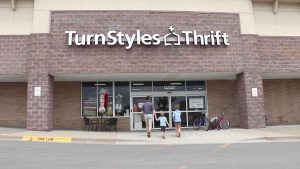 11310 W 135th St, Overland Park, KS 66213
9750 West 87th Street, Overland Park, KS 66212