Donate Goods and Clothing
Donate to TurnStyles Thrift
Are you decluttering your house, cleaning out a closet, moving or redecorating?
Your gently used items can help Catholic Charities of Northeast Kansas support our 30+ programs!
Our Easy Donation Drop-off Process
Donating at one of our convenient parking lot bins? Please only place clothing, coats and small accessories into these bins.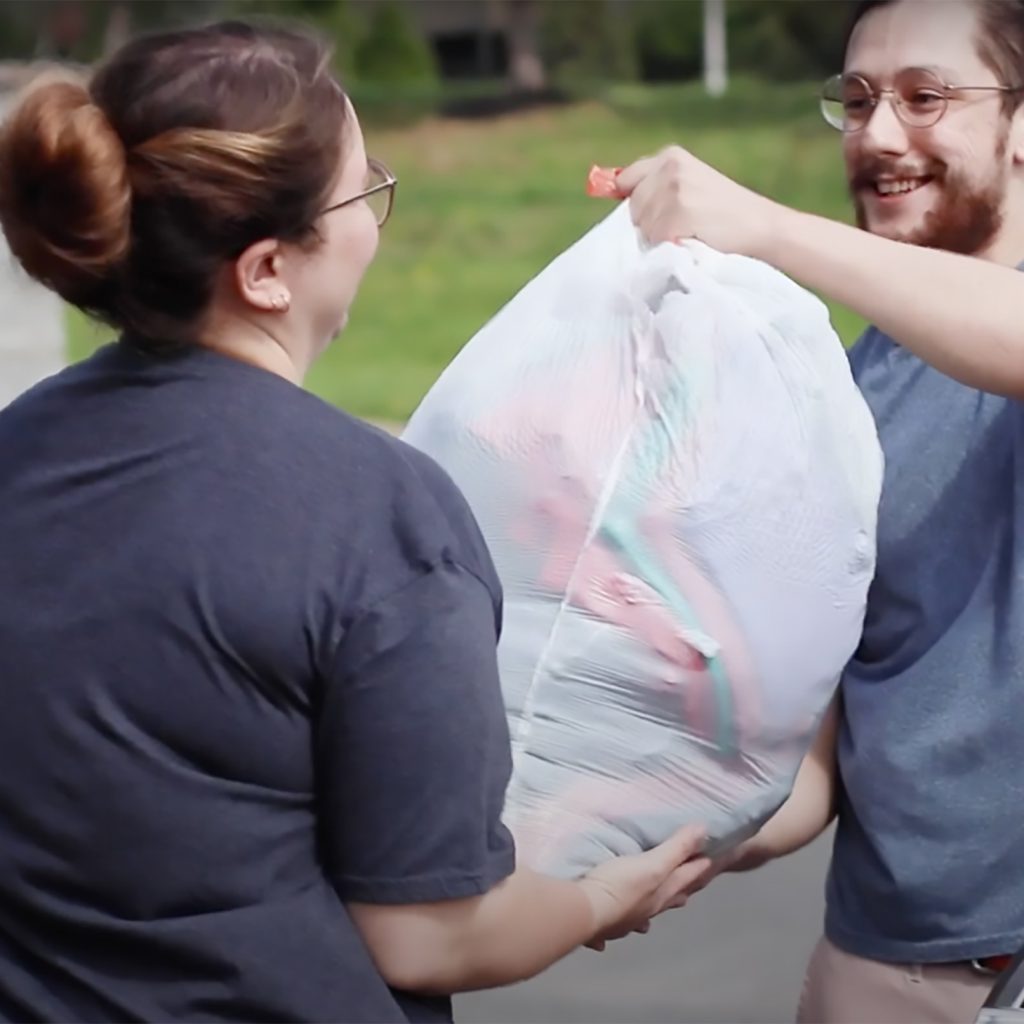 Review our list of accepted items before donating.
Ask for a receipt when dropping off your items.
Your donation is tax-deductible!
Wash items before donating.
Removing stains and smells is a kindness to our volunteers. It also makes your items more likely to sell and generate funds that support our community.
Check whether your items are broken, torn or stained.
Remember: one man's trash is another man's treasure, but sometimes trash is just trash. It costs us time, labor and other expenses to dispose of unusable items. Examples include stained cloth baby diapers and bedsheets!
Please sort your items.
For example, all clothing should be placed into one bag, and household goods into another.
Clothing (clean, without tears or stains)
Shoes
Furniture (free of obvious stains, tears and odors)
Housewares and small appliances in working condition
Antiques
Large appliances in working condition
Books
Linens
Vacuum cleaners in working condition
Musical instruments
Power and hand tools
Electronics in working order (cell phones, stereos, etc.)
TVs in working condition (new to 5 years old)
Sports and/or camping equipment
Large toys
Canned and packaged food
Furniture that is broken, stained or odorous
Items with mold
Mattresses, box springs and sofa sleepers
Car seats, strollers, cribs or baby beds
Pianos or organs
Console TVs
Exercise equipment
Window blinds
Built-in appliances & fixtures (hardwired): dishwashers, furnaces, microwaves, ceiling fans, lighting fixtures, etc.
Office furniture or cubicles (other than home office furniture)
Construction materials: lumber, pipes, floors, tubs, cabinets, carpet, doors, windows, etc.
Automobile parts: tires, mufflers, fenders, etc.
Weapons: firearms, explosives, ammunition, flares, etc.
Helmets (used) of any kind
Broken appliances
Furnaces
Hazardous and/or Flammable materials
Paint
Mirrors or glass without frames
Computers and computer equipment
We reserve the right to not accept items, and apologize for any inconvenience this may cause.
Volunteers make up 95% of TurnStyles Thrift operations! We have opportunities for individuals, families, small groups, corporate groups, youth groups and more!
Donating gently used clothing, furniture and household items is not the only way to support the work of Catholic Charities of Northeast Kansas! Check out the many other ways to donate.