While some may have been hitting the snooze button on their alarm clocks on a cold Monday morning, a group of energetic seniors from Saint Thomas Aquinas High School were already at the school at 6 am. They weren't there for a required practice or pep rally. They were there to unload pick-up truckloads of food they had purchased over the weekend for their "God Bless AmeriCAN" food drive to benefit Catholic Charities of Northeast Kansas.
The students – from freshmen to seniors – united and collected 118,238 items! This was the third highest food drive in the school's history. Unlike previous years,this year's food drive was more of a grass roots effort as the students shopped and transported the food themselves, using whatever means they had.
"We were able to get the numbers that we did because people gave the money that they could, and everyone did their part," says senior Mary Clare Halpin, Executive Student Council member. "That's what community is all about — people coming together to help others in need. "
And help people in need, they most certainly do. All of the food from Aquinas' annual food drive is taken to Catholic Charities' Hope Distribution Center warehouse and allocated to eight food pantries throughout a 21-county service area. "Aquinas' annual food drive impacts our ability to feed hungry families, not just for a couple of months, but for nearly an entire year," says Ken Williams, President and CEO, Catholic Charities of Northeast Kansas. "We, and those we serve, are truly blessed by the students' efforts."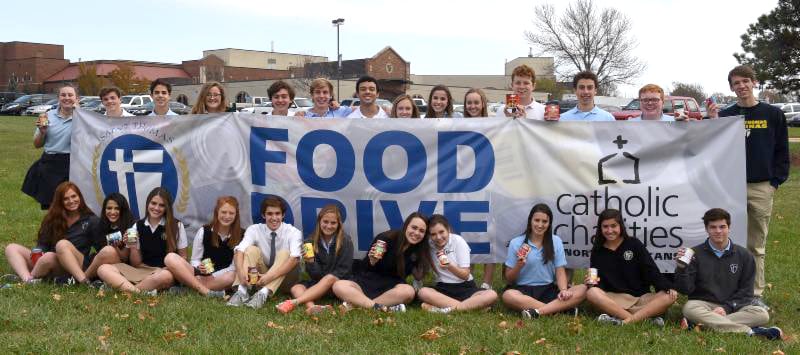 Catholic Charities provides food assistance over 25,000 times a month. Visiting one of the food pantries is often the first step to getting further help through one of the organization's many programs. "A lot of good in someone's life may start with just that one can that we brought in," adds Mary Clare proudly.