Originally published on Feast Magazine / Natalie Gallagher / May 25, 2018
Joseph and Far Thang of Victoria Gardens arrived in Kansas City after fleeing persecution in their native country.
Far Thang is a petite woman with a heart-shaped, youthful face. She primarily speaks Hakha Chin, a language found in pockets of Southeast Asia, including Myanmar's Hakha State, where Far was born. When guests arrive in the home she shares with her husband, Joseph, and their four children (14-year-old Sharon, 10-year-old Benjamin, 7-year-old Peter and two-month-old Christine), shoes are removed at the door and hot tea is immediately offered.
It's the way it would have been done in her home country of Myanmar (formerly Burma), although the Thangs haven't lived there in more than a decade. They're refugees who fled civil war, political turmoil and religious persecution – they were Christians living in a majority Buddhist country. Joseph first escaped to Malaysia in 2005, and then made arrangements for Far and Sharon to follow in 2006. Benjamin was born in Malaysia while the Thangs sought permanent resettlement in the U.S. That process included extensive background checks, and it took years. At last, on May 21, 2009, with the help of Catholic Charities of Northeast Kansas, the family touched down on American soil.
The Thangs relocated to Kansas City, Kansas; Catholic Charities saw to it that they were settled in an area populated with other Myanmarese refugees so that they could find fellowship easily as they continued the immigration process. Joseph found work at Triumph Foods, a pork processing plant in St. Joseph, Missouri, which employs a large population of refugees from Myanmar; it's a steady job where not a lot of English is needed to get by, and Joseph needed to support his growing family – both Peter and Christine were born in the U.S.
After two years in Kansas City, Joseph heard about New Roots for Refugees through a friend. The program, started by Catholic Charities and Cultivate KC, a Kansas City-based agriculture nonprofit (then called Kansas City Center for Urban Agriculture), teaches refugees – typically those with agriculture experience – how to start their own small farms.
It's this program, the Thangs say, which truly gave them a sense of home – and roots – in their new country.
***
The Thangs sit side-by-side at their kitchen table in their home; baby Christine is wrapped around Far, who bounces her gently. Peter climbs into Joseph's lap, waving a miniature American flag and pushing other toys across the tablecloth. A door leads out to a small deck and a large backyard, where the family has planted rows and rows of vegetable crops. It's an arrangement, the Thangs say, that's very familiar.
"Our hometown is in a mountain region," Joseph says. "We farmed there, but not as big as this. It was a family business – everyone had a home with a backyard like this, and they grow for family or the community."
When the Thangs first immigrated to the U.S., they wanted to continue growing and gardening, but they didn't know about the local growing season, weather patterns or what exactly to plant. That's where New Roots came in.
The program officially began in 2008, although it had started gaining ground a few years prior. In the early 2000s, Catholic Charities was working with large populations of Somali Bantu refugees. Over the course of the refugee-resettlement process, New Roots found that women often feel isolated in their new country; they're often responsible for childcare while men attend the program's cultural classes and go through job placement. Some of the Somali Bantu women wanted to address these issues, and they expressed an interest in farming; it had been central to the culture in their home country. Catholic Charities initially set up a community garden before quickly recognizing the opportunity to expand, and partnered with Cultivate KC to do so.
Today, New Roots is structured as a four-year program, with 16 new families enrolled each year. Twenty-nine families have graduated from the program to date, and 20 of those are still growing and selling produce. Each family is given a quarter-acre plot of land at Juniper Gardens, New Roots' nine-acre training farm in Kansas City, Kansas.
"We follow what we call a stair-step model to self-sufficiency," says Meredith Walrafen, program coordinator for New Roots. "The first year, farmers receive a significant amount of support in terms of [financing]: We provide them with tools and supplies at no cost to them in the first year. We also provide them with staff support: We go to farmers' markets with them and engage really closely with those first-year farmers. As they move through the program, they gradually take on more responsibility with the goal that by the fourth year, they understand and are paying for most of the costs of running a farm."
After completing the New Roots program, the hope and expectation is that graduates transition to land they own, where they grow food and sell independently. New Roots staff introduces the families to area farmers' markets, as well as community supported agriculture (CSA) programs.
"We intentionally recruit refugees who were farmers in their home country," Walrafen says. "We're interested in working with people who already have that skill set and working with them to develop it in the Kansas City area. A lot of families come to the U.S. with a wide array of skills, and sometimes those aren't valued by our workforce – maybe that's because of a language barrier or a certification that didn't translate from their home country. But farming is something that translates pretty well."
It's also an industry that's currently struggling in the U.S., as the farming population is declining and aging. New Roots addresses the food system's need for skilled farmers while also giving refugees the opportunity to find meaningful work.
"There are a lot of reasons that we chose this path," Far says. "First, because we like to eat fresh – when you grow food, you pick something and you can eat it right away, just like we used to in our hometown. Also, even though we live here and we still like to eat the type of vegetables that we used to eat in Burma – and most of them can grow here as well – we wanted to grow what Americans would eat, so we could sell our produce. And also it's like a hobby; we like growing, we're used to it and we want to keep doing it. It's in our blood."
***
Although refugees in the New Roots program mostly have prior farming experience, they still have a lot to learn about growing produce in the Midwest.
"Even though we have a farming background, it's different here," Far says. "New Roots took us from A to Z. They taught us how to mix the soil, start a greenhouse and transplant – everything, step-by-step, until harvest."
All of the produce grown at the Juniper Gardens training farm follows organic farming principles, including crop rotation, planting a diverse array of crops and steering clear of genetically modified or treated seeds, synthetic fertilizers and chemical pesticides. (The produce is not certified organic, however, owing largely to the language barriers that inhibit the record-keeping necessary for certification.)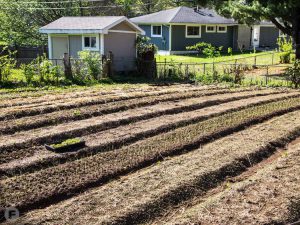 The commitment to organic farming practices is in part, Walrafen says, because New Roots and Cultivate KC believe that growing organically is best for both soil health and human health. It also helps that most of the refugees who are coming from agriculture-focused communities have never farmed any other way.
Perhaps the biggest adjustments for New Roots farmers are the federal rules and regulations they must learn. Farming commercially, even on a small scale the way the Thangs do, requires strict adherence to Food and Drug Administration regulations – rules that most refugees, accustomed to growing for their own families or local community at home, never needed to follow.
"Here, even when we started mixing the soil, everything had to be closely monitored," Far says.
Another significant change: learning about Western produce. Things like spinach, kale, Swiss chard, arugula, radishes, carrots and beets the Thangs had not previously heard of, eaten or grown. They also had to adapt to the new climate. In their native Myanmar, the growing season lasts all year long; in Kansas City, there are limited growing and harvest seasons.
"At least we have a break here in [the] Midwest [during] winter," Joseph says with a smile.
And then, of course, there are the expenses of maintaining a farm.
"Here, we have to pay for water, seed, mulch, straw," Far says. "Back in our hometown, we get water from a well or a river. We carry buckets of it to water the plants. But here, with technology and irrigation, that's a big difference."
For the most part, New Roots positions its program as a second income stream for refugees. Joseph still works at Triumph five or six days a week, but the Thangs have an all-hands-on-deck approach to their farm, which they have named Victoria Gardens. Even Sharon and Benjamin help with harvesting, washing produce, weighing it and getting it ready for market.
"Far is more involved in the garden, because I have a full-time job, but I'm involved as much as I can [be]," Joseph says. "I do the tilling and the more [labor-intensive] jobs, and she does the seeding, planting, all the watering and weeding until harvest. She takes care of everything, pretty much."
Far doesn't drive on highways, so she and Joseph make the weekly trips to the Liberty Farmers' Market in nearby Liberty, Missouri. Joseph takes care of unloading and arranging the display, while Far is in charge of communicating with customers and selling produce. During the four-year New Roots training program, there were field trips and activities for participants; despite his day job, Joseph tried to make sure that he and Far could go together. "We both learned at the same time, and that's how we balance the jobs," he says.
***
The Thangs graduated from New Roots in 2015; during their four years with the program, they garnered a handful of CSA customers for Victoria Gardens. Last year, they had 12 CSA customers, in addition to their regular business at the Liberty Farmers' Market.
Today, Victoria Gardens offers a variety of crops – all the Western produce that the Thangs have learned to appreciate, plus a smattering of vegetables and greens that are more often found in Burmese culture. There's chin baung ywet, or sour leaf, a variety of hibiscus also known as roselle. The Thangs eat the leaf, root and fruit, savoring its sour flavor; this is the primary ingredient in chin baung kyaw, a spicy dish made with green curry paste and bamboo. They also grow a few types of herbs, including sebelin, which is similar to lemon grass. And while pumpkins are fairly ubiquitous in Western cuisine, pumpkin shoots, or leaves, are not. They're a staple in many Asian and African countries, though, and appear on the Thangs' table as a steamed side dish or soup ingredient.
The Thangs' backyard plot of land is a good size, but not overly large. Still, there's nothing they feel like they can't grow; they've even assembled a small makeshift greenhouse where garlic, green onions and onion sprouts are kept warm and thrive in the winter months.
"It was lucky that we were open-minded to the new culture and new life here," Far says. "We were excited and happy that we were safe, and we had a lot of support here from the community. Emotionally, we were sturdy."
Joseph considers Far's words before continuing.
"The only challenge is related to the farming and marketing," Joseph says. "Your expectancy is high, because you have a lot of produce, and you think you'll make $300 or $400 when you go to market. But there might be competition that day, or the market isn't crowded and you make half of what you thought, and then you have to trash what you didn't sell. And you work hard to make that produce, but when you don't have someone to sell it to, you have to throw it away. That's a real challenge, and that can emotionally affect me, because your hard work is for nothing."
When asked about how frequently she's in touch with Far and Joseph since they graduated from New Roots, Walrafen pauses.
"The most telling thing might be that I haven't talked to them in a while," she says, a touch of pride in her voice. "What that shows is that they run their farm business really independently of our program, and the fact that we don't interact with them is a sign of self-sufficiency."
The Thangs, she says, were among the first New Roots students to purchase a truck for hauling produce – just one indicator of how much they wanted to make farming a viable part of their lives in Kansas City from the get-go. Far was quite shy at first, but over the years, she grew more comfortable with her English-language skills. And it doesn't hurt, Walrafen adds, that the Thangs are blessed with natural green thumbs. On their own, the family decided to start growing flowers, and Far assembles show-stopping arrangements to sell at the market when they're in season.
"They're beautiful farmers," Walrafen says. "They grow beautiful produce, and they always have. It's been fun to see them grow [independently]. They have a following at the Liberty market; they do well and have regular customers."
It seems like Joseph and Far could be one of New Roots' model families for success – and, indeed, Walrafen considers them an excellent model of how the program can positively impact lives. Yet their path, she adds, mirrors many of the families that enroll in the New Roots program.
"With the folks that we work with, I see on a regular basis [a] hard work ethic, valuing family, wanting to support their community," Walrafen says. "Those things are really prevalent, and people work really, really hard, and not just at farming. It takes a certain amount of humility to go to a farmers' market when you don't speak the language, and it takes a lot of courage and strength to be willing to put yourself out there. The people [who] come here want so much to succeed; they want a good life for themselves and their family. They want a community around them, and this program engages them in the larger Kansas City community."
***
After a year in Kansas City, the Thangs applied for a green card, and by 2017, they had all become U.S. citizens. As important a step as this was for the family, it wasn't the only one that made them feel at home. Instead, it's the deeper connection they've formed with their community and in their own backyard through farming.
"It impacted our whole life and family," Joseph says. "It's a little financial support, and we're enjoying what we're doing."
"It's peace of mind all the time," Far adds. "You see your work from the seed to growth to harvest. It's a peaceful feeling, when you see your plants growing. Our garden makes us happy. We're not bored: We've got something to do all the time, and it's spending time in a good way, just day by day, with the garden."
For the Thangs, their current garden is just the beginning of a long-term goal. Once the kids are older and can devote more time to farming, Far says, she and Joseph would like to expand to a larger plot of land – somewhere in the country, where they can raise cows and chickens and plant even more crops. Right now, that's their retirement plan.
"Growing is what we love to do," Far says, gently rocking Christine, who is now asleep in her arms. "We want to spend the rest of our lives doing that. That's our dream."
Editor's Note: Our interview with Joseph and Far Thang was conducted with the assistance of translator Daniel Lian.
Find Victoria Gardens produce at the Liberty Farmers' Market every Saturday from May through October. Visit them online at facebook.com/pg/vgkck.
New Roots for Refugees is a partnership between the Catholic Charities of Northeast Kansas City and Cultivate KC. Learn more at newrootsforrefugees.com.