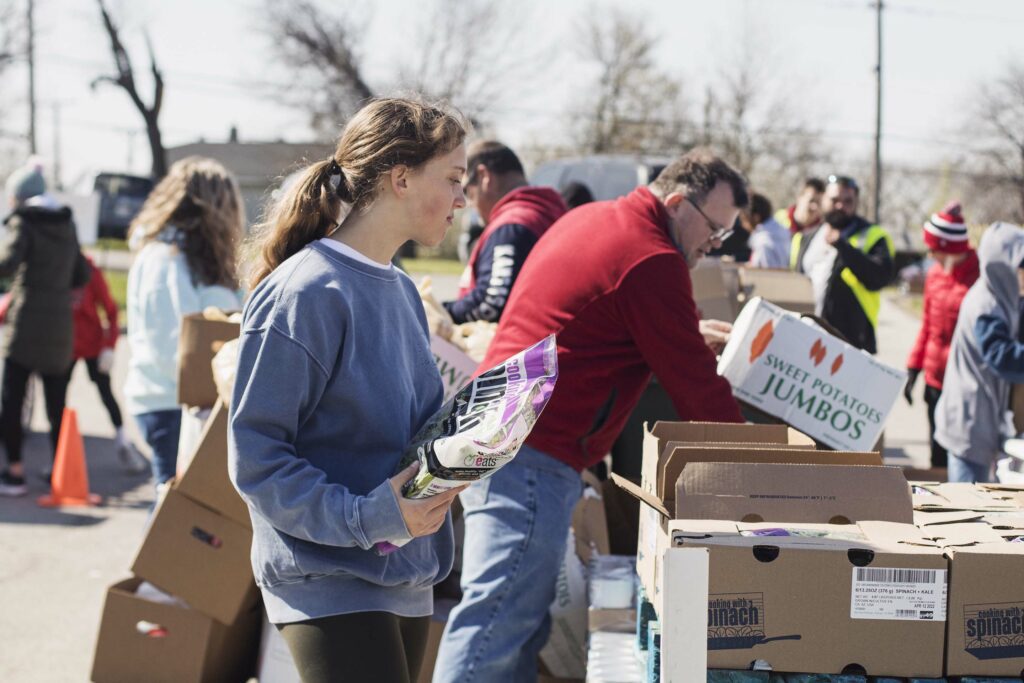 Catholic Charities of Northeast Kansas serves our neighbors, of all faiths, through help, hope and hospitality. With your help, we are able to animate the Gospel by putting love into action.
Our needs are ever-changing in response to the issues facing those who are economically and socially challenged across our 21-county service area. Whether through volunteering, donating, working with us, or spreading the word about our services, you can answer the call to love by making a difference in our community.
With the rising cost of groceries, supply chain issues and a 69% increase of those accessing our eight food pantries, the demand to feed our neighbors in need is critical.
In 2022, we had an astounding 25,000 additional visits to our food pantries compared to the previous year. We are on par for that or more as the number of individuals served seeking food through our pantries continues to rise. At a time when food pantry visitors need us the most, our pantry shelves are growing empty. All our food pantries are experiencing what we call a food drought. Supply chain issues and today's increasing inflation-related costs are making it difficult to purchase the food we need. Additionally, our donations are down almost 20%.
We post our most up-to-date calls for volunteers, donations and other needs on our social media.
Follow us on Facebook, Instagram and Twitter to see our most important current needs!
Sign Up for Our Newsletter
Our monthly newsletter features highlights from our programs, stories of hope, the challenges currently facing our communities and much more. Every month, we feature the programs which need the most volunteers, donations and support.
By making an unrestricted donation online, you directly support our current area of greatest need. We take stewardship of your gift seriously, with 90 cents of every dollar going directly to our programming. Thank you for your gift—we could not continue our mission without the generosity of supporters like you!
Thank you for answering the call to serve the current needs of our neighbors. We are always in need of volunteers and donations. If you have any questions, send us a message and we'll get back to you soon!