Join Us at This Year's Event
The Gathering is SOLD OUT! Thanks to an incredible response this year, we have reached capacity for the event. If you would like to be added to the waiting list in the event tickets become available, please contact Lindsay Smither at [email protected] or 913.433.2068.
The 11th Annual Gathering will be hosted at the home of Teresa Walsh on October 3, 2023, from 6:30-9:00 PM.

2101 W. 59th St., Mission Hills, KS 66208

Kindly RSVP by September 19, 2023.
Over a decade ago, a group of friends gathered to learn more about New Roots, a farm training program offered through Catholic Charities. What blossomed was a passion to support this unique ministry and the incredible farmers in the program. New Roots helps refugees, immigrants and English Language Learners utilize their skills to help sustain their families and our community through agriculture. 
Thanks to the support of The Gathering, New Roots has experienced growth and success. Forty-five farming families have graduated from the program and 31 of those are still farming locally.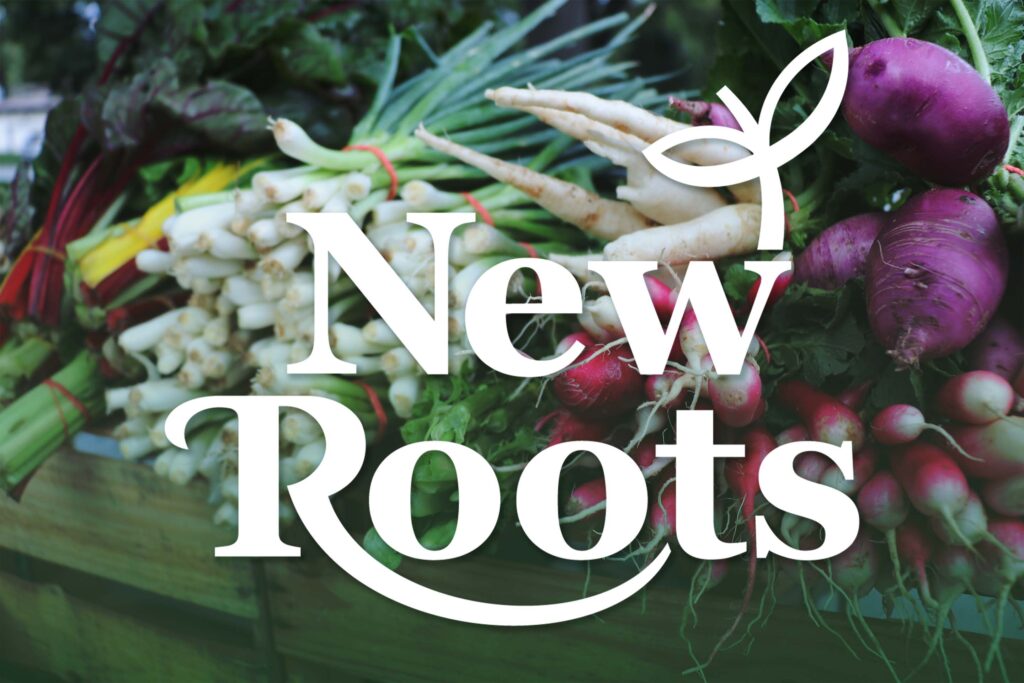 This fall, Taw Meh Gaw will graduate from New Roots. This farmer training program, a 15-year collaboration of Catholic Charities of Northeast Kansas and Cultivate KC, has been instrumental in helping Taw Meh build new skills and find purpose through gardening. Taw Meh was born in Myanmar (formerly known as Burma) in a small village outside the border of Thailand. When the country's civil war broke out, Taw Meh fled with her parents and began living in a refugee camp where resources were very limited. While there, however, Taw Meh discovered her passion and skill for farming.
"Living in a refugee camp was difficult; I did not have the opportunity to go out and work since I was confined to the camp," said Taw Meh. "If you went outside of the restricted area, you risked being arrested by the police." While her family didn't have their own garden, there was someone who owned a farm about an hour's walk from the camp and paid them to secretly work there. "I would work on the harvest by drying garlic and growing sesame, soy and yellow beans," said Taw Meh. In November 2010, Taw Meh was resettled by Catholic Charities. After having spent a majority of her life living in a refugee camp, many things have changed for Taw Meh.
New Roots has provided her valuable farming education and experiences, enabling her to sell produce in area farmers' markets and through aggregated sales to restaurants and vegetable subscription customers. Most of all, Taw Meh credits New Roots with helping her stay close to family, including her husband and two children, Cindy and Christon. "In the garden, you get to spend time with your kids," she explained. "You put a lot of time in your garden and spend more time there than working at a company." Now an avid vegetable farmer, garlic remains a favorite to harvest. She also grows zinnias and sunflowers and dreams of one day having her own land to grow a flower and vegetable garden. You can find Taw Meh's produce and florals at Parkville Farmers' Market in Parkville, Missouri.
The New Roots program empowers families to start farm businesses growing produce according to organic standards. For the past decade New Roots has supported families from the refugee community in establishing their own farm businesses primarily selling through farmers markets, CSA (Community Supported Agriculture) and wholesale to local restaurants.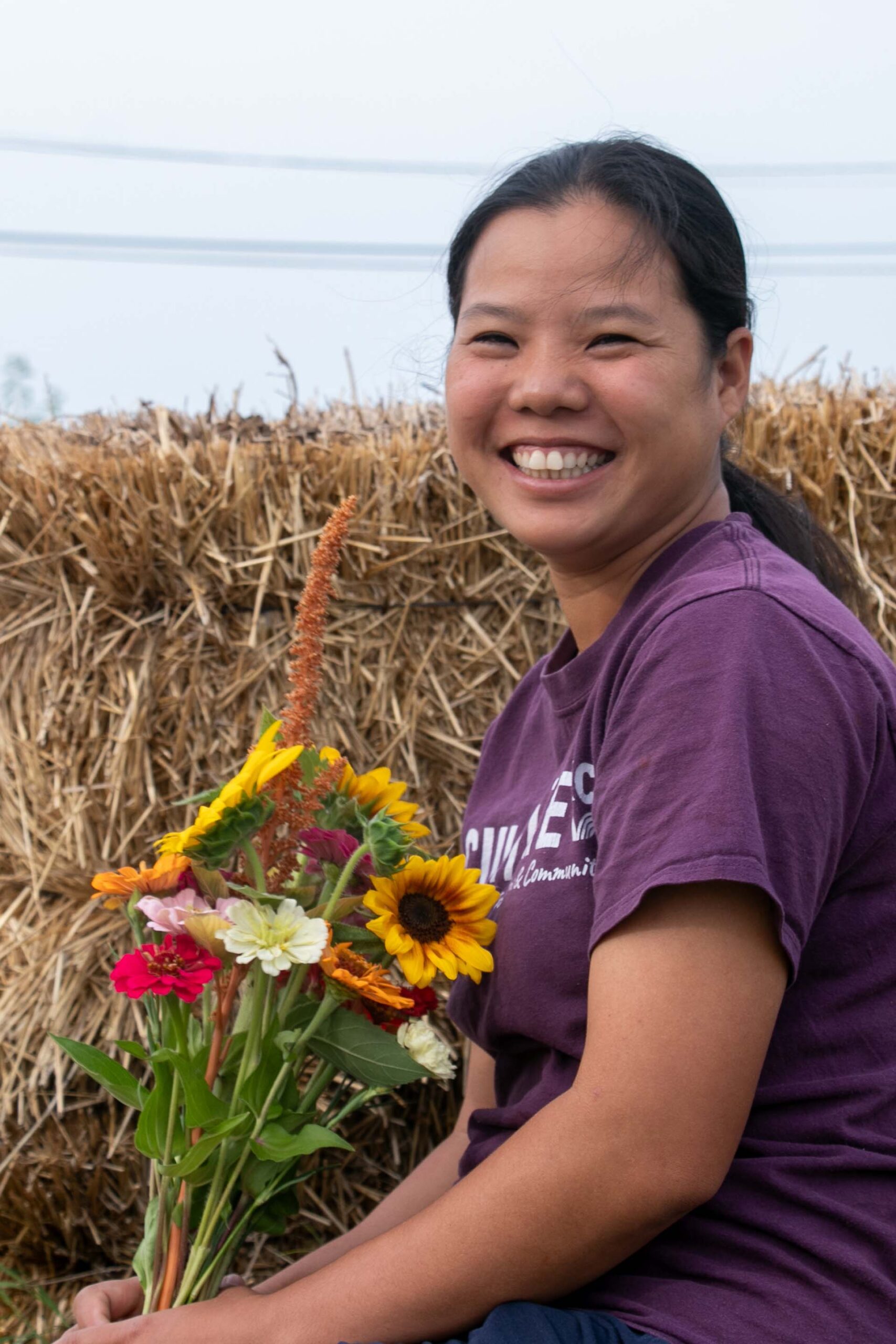 Above: Taw Meh Gaw displays flowers from a recent harvest.
Sponsorship opportunities
Provides one single-language interpreter for all farmer workshops for one year. Sponsorship includes recognition in the event materials for the 12th Annual Gathering in 2024.
Includes 6 tickets
Provides one farmer with a Market Start-Up Kit consisting of a table, tent and the cost of one season's booth rental at area markets. Sponsorship includes recognition in the event materials for the 12th Annual Gathering in 2024.
Includes 4 tickets
Provides one farmer with seeds and supplies necessary to begin farming. Sponsorship includes recognition in the event materials for the 12th Annual Gathering in 2024.
Includes 2 tickets
Dori Boers
Angela Evangelidis
Missy Kuklenski
Julie Norton
Lynn O'Leary
Maddy O'Leary
Mrs. Lisa Connor
Mrs. Kerry Coulter
Mrs. Laura Fitzpatrick
Mrs. Susan Gangel
Mrs. Jeanne Gates
Mrs. Karen Gibbons
Ms. Whitney Greaves
Mrs. Gretchen Hembree
Mrs. Shelley Howe
Kelly Family Foundation
Mrs. Missy Kuklenski
Mrs. Bridget Lee
Mrs. Erika McCarthy
Mrs. Lauren McMonagle
Ms. Maureen McMeel Carroll
Mrs. Lynn O'Leary
Mrs. Jenny Sullivan
Anonymous
Mrs. Dorothy Barnthouse
Mrs. Dori Boers
Mrs. Sherri Burke
Mrs. Diane Church
Mrs. DeeDee Cooper
Country Club Bank
Mrs. Sarah Evans
Mrs. Patricia Green
Ms. Jessie Gregory
Mrs. Jeanne Haake
Mrs. Ann Hays
Mrs. Rebecca Hewlett
Kincaid Family Foundation
Mrs. Pam Kramer
Mrs. Jan Lewis
Mrs. Patricia Lisson
Mrs. Jackie Marquardt
Mrs. Nancy McCarthy
Mrs. Cheri Milligan
Mrs. Lynn Reardon
Mrs. Caroline Reintjes
Mrs. Donna Teahan
Mrs. Sheryl Turner
Mrs. Gretchen Vosburgh
Mrs. Mary Walker
Mrs. Leslie Whitaker
Ann Hays
Taw Meh Gaw's family, like dozens of others, has found hope and a path to self-sufficiency through the New Roots program. In the past 11 years, The Gathering has featured farmers in the New Roots program. Read their inspiring stories below.