Supporting adult students for a brighter future
St. Rita, A Workforce Program
Education & Career Advancement Assistance
St. Rita, a Workforce Program, is a ministry of Catholic Charities of Northeast Kansas that is designed to remove barriers for those who are unemployed or underemployed. The program is for individuals who are motivated to break the cycle of poverty and change their lives through education and career advancement.
The St. Rita Program provides the support and assistance needed to earn a certificate or degree, as well as obtain and retain employment. The overall goal is for graduates to find success in a high-demand, high-paying profession.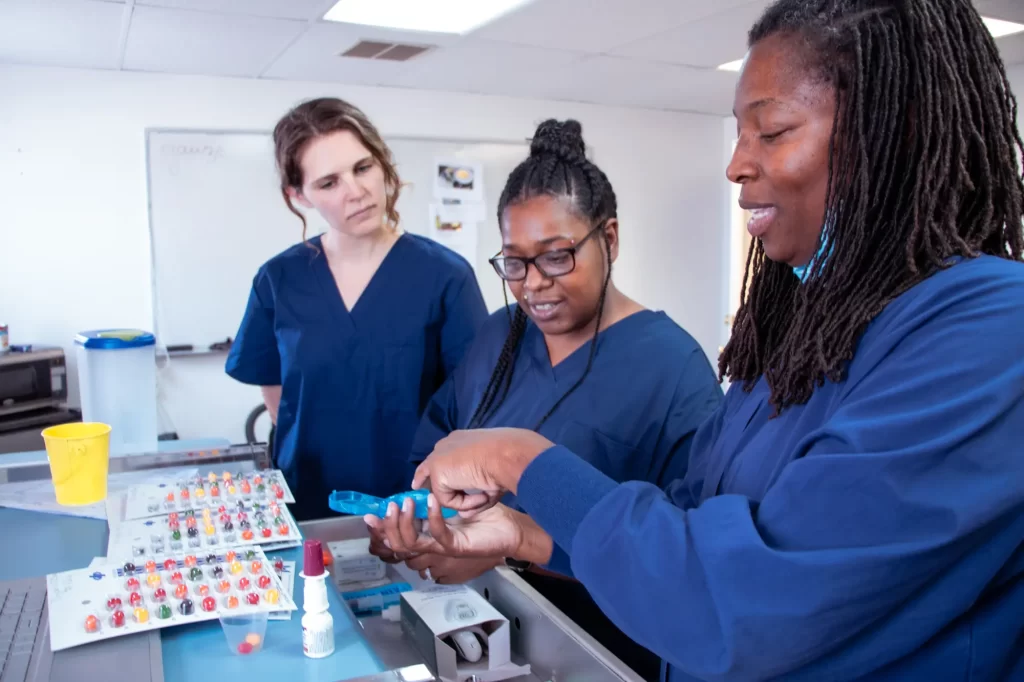 Click "play" to watch video.
Why Choose the St. Rita Program?
Academic level is consistently related to higher earnings and career development. Education is also a primary factor in fighting poverty! Over the past year:
78 participants graduated with credentials 
69 participants secured employment 
49 participants saw an increase in wages 
…and these numbers continue to grow!
The St. Rita Workforce Program is offered year-round at Catholic Charities of Northeast Kansas. Program participants should expect to complete the program within 12 months. Completion is dependent on career path selection.
The St. Rita Program can help unemployed and underemployed individuals advance in:
Skilled trades (electrician, machine operator, welder, etc.)

Healthcare (nursing, physical therapist, occupational therapist, etc.)

Information Technology (IT manager, web developer, data analyst, etc.)

Life Sciences (lab technician, research assistant, etc.)

And more! If you are interested in furthering your education in these or similar fields, please review our program eligibility and contact us.
St. Rita Program Services
Personalized assessments to determine the best training/career path

Assistance with identifying high-demand occupations with a sustainable income

Referrals for grants, scholarships and other tuition assistance

Work readiness training

Resume and interview assistance

Access to Catholic Charities' financial coaching and additional resources

Person-centered career coaching to support educational and career employment goals (during the program and post-graduation) 

Connections to community partners and agencies

Support in removing barriers to successful completion of training program and/or stable employment

It takes a village to help ensure our program participants are set up for lasting success in both the workplace and at home. We are proud to partner with an expansive list of institutions across Kansas.
The months I spent with the St. Rita Program taught me so much more than being a technician. [...] My graduation that year was a victory for my whole family."
—Lavaunte, St. Rita Program graduate, class of 2018
Qualifications to Enroll in the St. Rita Program
Must be within 12 months or less of earning credentials (must be able to complete program within 12 months)




Must display an interest in Skilled Trades, Healthcare, IT or Life Sciences careers

Must be committed to engaging in intensive case management with Catholic Charities

Must be 18 years or older

Must be authorized to work and study in the U.S.
Ways to Get Involved with Our Program
Become an Employer Partner

Offer internships to program participants

Provide job shadowing opportunities

Support job placement for St. Rita graduates within your company
Become a Community Partner

Offer student referrals to our program
St. Rita Program & Workforce
The St. Rita Program is part of Catholic Charities of Northeast Kansas' Workforce department.
Use the form below to contact the Workforce team.
Please submit other questions to our general Contact Catholic Charities page.
Hope Stories and Blog Posts About Our Workforce Programs
Get Involved
Partner with Catholic Charities of Northeast Kansas and help individuals find employment that respects their dignity and supports their families. Our Workforce Program offers Employment
Read More »
Featured In:
Catholic Charities of Northeast Kansas has been resettling refugees since 1975, but one of the newer ways we have engaged with displaced refugee youth is
Read More »
Emergency Assistance
The best way to describe my experience with Catholic Charities is Ephesians 3:20, "Now unto Him that is able to do exceeding abundantly above all
Read More »